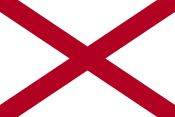 Trails to the Past is an organization of volunteers dedicated to providing non-commercial, free genealogical data to researchers. Alabama is just getting started, and is looking for county hosts and data. We want to provide birth, death and marriage records; census, bible records, books and cemetery records. Journals, diaries and photos would be a wonderful resource for researchers to find here.
The following articles should give the reader an understanding of early Alabama History. When a genealogist encounters a "brick-wall" in their research, an understanding of the history of the state, county, or town at the time their ancestor was living may bring an understanding as to where the researcher should next set engage their research skills.
The Spanish Inroads 1540 - 1543
French Colonization and War 1697 - 1795
First Territorial Organization 1795 - 1832
History Databases
Alabama History, 1540-1872
Butler County, Alabama History, 1815-1885
Clarke County, Alabama and Its Surroundings, 1540-1877
Conecuh County, Alabama History
Jefferson County and Birmingham, Alabama: History and Biography, 1887
Many of the counties in Alabama are in need of adoption. Do you have an interest in an area? If you are interested in becoming a host for an Alabama County or submitting data, please contact me.
There are states and counties throughout the Trails To The Past Project that are looking for administrators. If you are interested in hosting a state site, please consider volunteering to host one.
If you do not have the time or do not wish to host a county or state, please consider submitting content, documents, pictures, stories, or anything you think is of value.